The director and actor talks about his near-death experience, becoming vegan and the star-studded reboot of the film that first made him famous 25 years ago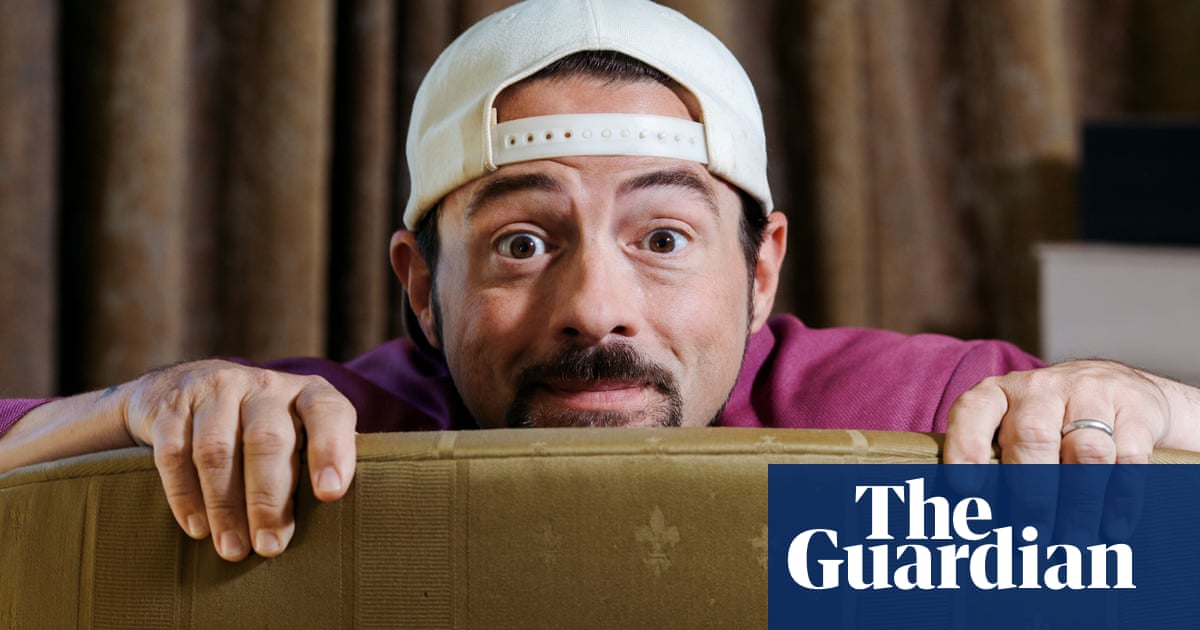 In February last year, Kevin Smith performed 90 minutes of standup for a TV special, padded back to the green room and started to worry that the joint he had smoked before the show was too strong. He was sweaty and nauseous, which was not entirely out of the ordinary. But after he lay down on the tile floor and vomited, he was rushed to hospital, where a doctor broke the news that Smith was having a massive heart attack.
Smith stayed calm. Honestly, he tells me, as we talk at his Hollywood Hills home, he was still stoned. On learning that he might die, he says: I was like: Im going to make peace with this right away. You did way more than you ever set out to do, you got to do some cool shit, and if its done, its done.
For 25 years, Smith, a director and actor as well as a comedian, has grappled with his own dumb luck. In 1994, his debut film, Clerks, a raunchy comedy about the convenience store where he worked, was a hit with Sundance audiences charmed by Smiths on-screen appearance, as a slacker known as Silent Bob, and his behind-the-scenes stories of selling cigarettes during the day and shooting the movie at night. Made for just $25,575, Clerks was funded by credit cards and favours from friends, some of whom even had parts in the film: Brian OHalloran, for instance, plays Dante Hicks and delivers the catchphrase, Im not even supposed to be here today! and Smiths middle-school chum Jason Mewes, who agreed to play Jay, the talkative half of Jay and Silent Bob (Smith), two friendly morons with flashes of brilliance. Harvey Weinsteins Miramax bought Clerks and, as its publicists had done with Quentin Tarantino and Robert Rodriguez, turned the filthy-mouthed former altar boy, the 24-year-old son of a New Jersey postal worker, into a star.
Ive been living on that one trick for a long time, admits Smith. Like, come on, that movie was cute but 25 years on the back of one black-and-white movie? Lighting a branded Jay & Silent Bob joint with his face on the packaging, he describes that Sundance wunderkind as if he were someone else.
I love that guy. I dont understand why he had the confidence. I think he was undereducated. I was never ambitious. I think that was a fluke.
A fluke that became the cornerstone of his future, of his gorgeous three-story house decorated with memories: a table-top football game inspired by the roof hockey in Clerks, iron fireplace statues of Matt Damon and Ben Affleck in Dogma, a walrus ceramic that nods to his screwball gothic Tusk, crayon sketches, movie posters and souvenirs from the live stage monologues in which Smith extemporises on everything from phone chats with Bruce Willis to his dogs genitalia. (He has sold out Carnegie Hall.) The upstairs living room is dominated by a collage celebrating his 20-year marriage to Jennifer Schwalbach. Squint, and you can find his first email to his future bride: Youd be surprised how many Schwalbachs there are in the phonebook
The house is a me-seum that highlights the accomplishments of Kevin Smith, he jokes. When he looks around, he is reminded of everything he did that he never expected to do. Thats why, when I almost dropped dead, I was OK with it, he says. Most days Im like: Oh, I probably did die on the table and this is heaven.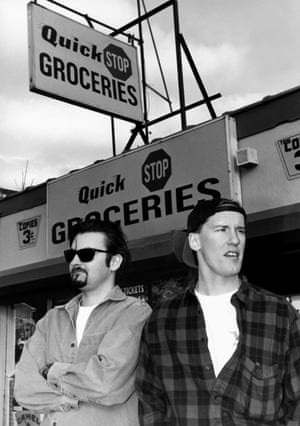 Read more: https://www.theguardian.com/film/2019/nov/18/director-kevin-smith-on-heart-attacks-happiness-extreme-weight-loss-and-weinstein